Canada is a beautiful country.
I've never been more aware of that than over this past week, as I've been booking clients to see different parts of our country. And, we've been travelling from coast to coast.
---
For example, this magnificent resort in British Columbia called the Clayoquot Wilderness Resort. Clayoquot Wilderness Resort is a Relais & Châteaux all-inclusive eco-safari resort destination located near Tofino on the wild west coast of Vancouver Island, British Columbia, Canada.
Australian luxury resort contingency Baillie Lodges announced its first foray into international markets with Clayoquot Wilderness Lodge joining the unique collection of luxury lodges. (Maybe you've heard of Silky Oaks Lodge, Longitude 131, or Huka Lodge.) And they've brought this luxury lodge excellence to the beautiful Canadian wilderness.
The lodge reopens on May 12th. It has attracted all the big celebrities (from Lady Gaga to Ryan Reynolds) and has some famous celebrities living close by (Sarah McLaughlin – please let me know if you're a fan, there are rumours of a pending private concert coming up at the resort).
---
And, an earlier planned Northern Lights trip to the Northwest Territories looks like it's going ahead in 3 weeks. Northwest Territories just announced they'll re-open to tourists on March 1st. So, the previously planned trip with wildlife photographer and nature specialist is going ahead on March 19th. We've had to reschedule a couple of times, but now it looks as this is definitely a "go."
Some clients have moved to 2023, to still do the Northern Lights trip planned for the second week in 2022 initially.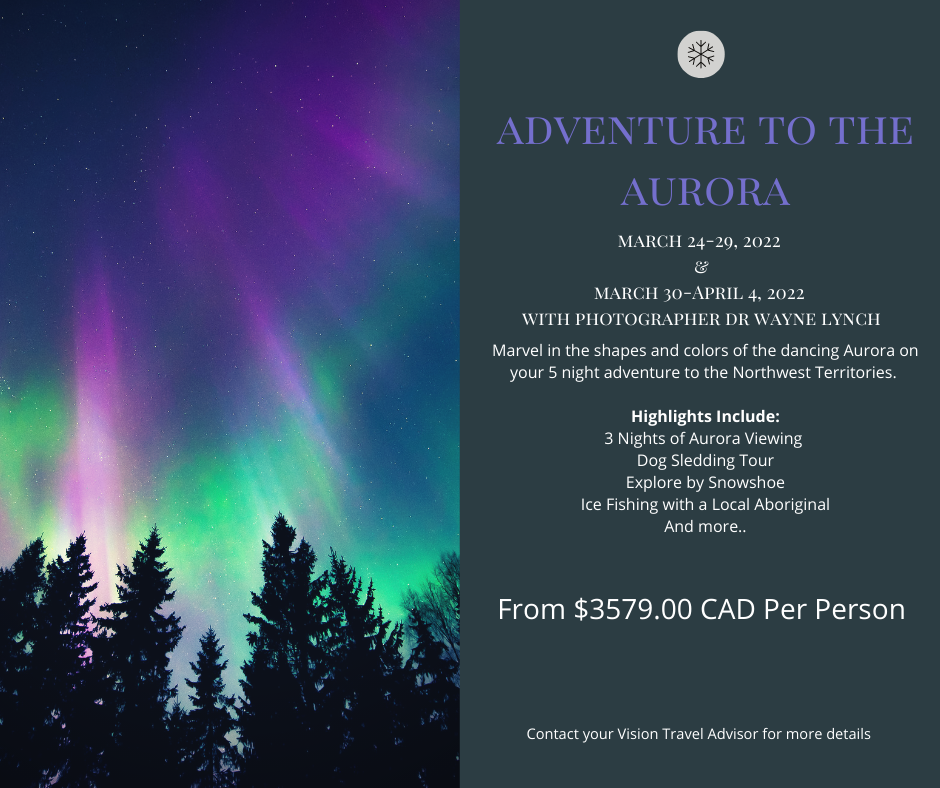 But now that we're going ahead on March 19th, we have 2 rooms available. Here's the original picture (note: dates are now different – starting on March 19th – and flights have to be added. We have a good line on Westjet flights out of Calgary to Yellowknife.)
And here's the detail on the trip. Adventure to the Aurora 2022 Itinerary

Let me know if you'd like a last minute trip.
---
And, of course, Newfoundland.
See the Seabourn trip details on September 22, 2022.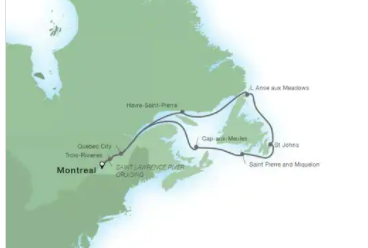 If you missed my call with Lori Patterson of Seabourn cruises, you can watch it here.
Let me know if you'd like to learn more about Seabourn – particular a cruise on Sept.22.22 that is round trip Montreal, and visits Quebec City, Saint Pierre and Miquelon, and does a circumnavigation around Newfoundland.
I have several cabins I'm holding, and have some terrific onboard credits too.
And, of course, there is also my group trip on September 7th, 2022 with Globus.  I have 2 rooms left. Would you like to join me?
See
Newfoundland & Labrador September 2022
Newfoundland & Labrador September 2022
The tour dates are: September 7 – September 18, 2022 .
The tour will includes ● Breakfast daily, 3 lunches, 6 dinners
There is an early booking discount that I've just confirmed (available for ltd # of pax)
$3,843.00 pp Land Price
-$300.00 pp Early Booking Discount
$530.74 pp Accommodation GST/HST (after discount)
Total = $4,073.74/p CAD excluding ppd gratuities .
(This excludes air, insurance, and professional fee.)