Extremely attentive to details 
By Linda King in Ottawa - July 2021
"Such a disappointment not to have been on our cruise last year but with Sheila's help and her contacts with the cruise line, she was able to get full refunds for the whole party and we were not left with empty pockets.
Up until that time though,  Sheila was extremely attentive to detail and answered all our questions in a time efficient manner and made us truly looking forward to our Russian visit. A true professional. "
Excellence is her middle name 
By Kathie Donovan in Ottawa - 28 Dec 2019
"This was my first experience working with Sheila and I'm certain it won't be my last. Every detail of our trip: leading up to, during and after was handled with calm confidence.
Because it was a group trip, Sheila had her hands full and handled every person and every request with patience and compassion. Pack your patience she advised us all but we didn't ever need to unpack it because Sheila handled everything.
It's true that when you love what you do it doesn't feel like work and that describes our experience with Sheila.
What a pleasure."
She Fills in the Blanks with her Expertise 
By: Anne Toal, Toronto
See my client's quote, published in profile by Virtuoso Life.
"We give our advisor a list of places we want to get to. From there, she starts sending ideas, articles, and side trips we might not know about. She picks up on our interests and then fills in the blanks with her expertise." – Anne Toal
https://www.virtuoso.com/travel/articles/25-travelers-on-why-they-love-their-travel-advisor
Testimonial - When CoVid Stopped the World 
Gord Gibbons, Ottawa, November 2, 2020
"When CoVid stopped the world from moving, and our dream vacation got cancelled, our trusted travel advisor, Sheila, went to work for us. She did the legwork for us, saving us days of phone calls and time on hold. And she leveraged her partnership with the river cruise company to negotiate a better settlement for us than we would have gotten with the company on our own. Sheila is a true advocate for her clients, and we will work with her again."
Why I Travel
By: Anne Toal, Toronto
See my client's quote, published in profile by Virtuoso Life.
Natural wonders and great golf greens keep Anne Toal and Paul Brisson on the go.
After a canceled flight on their honeymoon in Greece 32 years ago, Anne Toal and Paul Brisson of Ontario, Canada, were stranded in Corfu and missed boarding their cruise in Athens. They scrambled to change plans and meet up with it in Crete. Their ship eventually came in, Anne explains, but it reinforced with these practical- minded travelers – they both spent their careers as actuaries – the need to avert misadventure by planning with an experienced and reputable travel advisor. Both now 61 and retired, they explore prodigiously, with nary a hiccup, thanks to Virtuoso advisor Sheila Gallant-Halloran.
Our philosophy in travel is to always go with a plan, but expect the unexpected. Have patience, take deep breaths, and leave your type A personality at home.
And take a map. Yes, we live in a world with GPS and Google. But you go off the beaten path, you get lost on a country road – you might lose service.
Nature is what interests us. Seeing different types of animals and birds and landscapes, but also the world's great golf courses.
For wildlife, Botswana is definitely the place. The birds and the elephants, the leopards and the lions. Then again, the penguins in Antarctica are pretty amazing.
We played Pebble Beach on an absolutely perfect day. On a round at Tralee in Ireland, the wind was blowing so hard, we thought we'd blow off the cliffs. I was lucky enough to have a hole in one at Desert Willow in Palm Desert.
Generally, we give Sheila a list of places we want to get to. From there, she starts sending ideas, articles, side trips we might not know about. She picks up on our interests and then fills in the blanks with her expertise.
What we love about cruising with Lindblad Expeditions is its small groups. You're on a ship with maybe 40 to 150 people rather than thousands, the guides are excellent, and, depending on the destination, there are opportunities to hike, kayak, snorkel, and learn photography tips from National Geographic experts. And it's casual – Paul isn't into wearing black tie for dinner.
Wherever we go, we bring home a little cat. We have a little green guy from Zambia made out of malachite, and a silvery-black one from China. In Portugal, we found one made of brown pottery.
We used to lug big, heavy binoculars. Now we take the Nikon Travelite. They're powerful, waterproof, and fit in a jacket pocket.
Where next? There's quite a list: Madagascar. South America. We'd like to go to the Canadian Arctic and Norway. I'd return to Antarctica. We've done safaris in South Africa, but didn't golf. Oh, and Australia is high on the list.
https://www.virtuoso.com/travel/articles/why-i-travel-anne-toal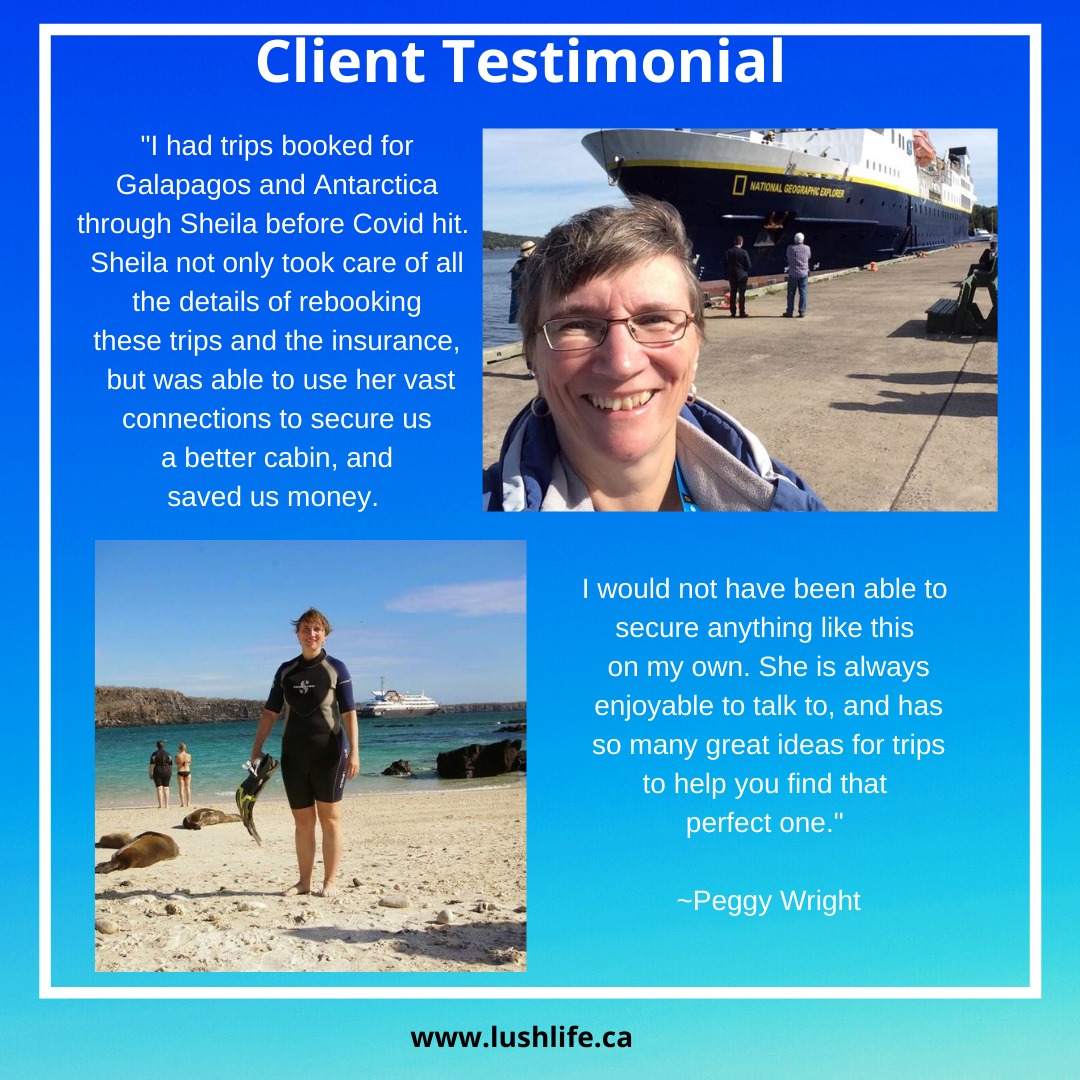 Outstanding Travel Advice and Support - Sheila Gallant-Halloran 
By: Cathy in Ottawa
Working with Sheila was a fantastic experience. She was extremely well-informed, organized, responsive, attentive and focused on my specific individual needs despite the fact that I was travelling with a large group. An unusual situation arose in Prague when I lost my phone on a coach that was taking us to the airport. Sheila, even though her official duties with our group were done and she was on a personal weekend, took a sincere interest in my situation, connected me to the coach company, identified a hotel employee who could speak to the bus driver in German, provided me with telephone numbers for the guide and bus driver etc. The phone was miraculously located and Sheila assisted in coordinating its return to me in Canada!! I can't say enough about her degree of care and professionalism, and would recommend her without reservation.
TWO WEEKS IN PARADISE
Group Trip to Hawaii - By: Jennifer R in Ottawa
Sheila is a superlative travel agent. She has helped me choose trips that align with my interests and travel style. She is also able to find good fares for solo travelers.
Highly Recommended
Regent Cruise - By: Christopher in Ottawa
We have booked two cruises through Sheila and are in the process of booking a third. She is extremely professional, very personable and a wealth of information. We had a couple of mishaps (no fault of hers) to which she went out of her way to rectify. If you are planning a trip, talk to Sheila and get it done right
Expert Advice
Customized trip to London & Paris -By: Sharon42 in Ottawa
Our recent trip to London and Paris was a wonderful family experience due in large part to the expert advice we received from Sheila. From the selection of a suitable tour company to helping us decide how to plan our "off-tour" time, Sheila was there to answer our questions and to provide excellent guidance. I would, without hesitation, recommend Sheila!
Every detail taken care of beautifully
By: Happy Couple Who Needed a Romantic Getaway - Trefor in Ottawa
We had an idea where we wanted to go, but Sheila really made it happen. We have three wonderful children, but we needed some time that was just for us. So we found remote Greek island and shared our ideas with Sheila. Quickly and easily, Sheila took care of all of the details, found us the absolutely best place to stay on the island, coordinated all the flights and layovers so all we had to do was relax. Sheila is such a clear communicator and was able to deal with every question we had. We ran into complications on our return trip and Sheila had a new plan sorted out in no time at all. We can't say enough about how wonderful Sheila is to work with. We highly recommend that you connect with her.
Experience Makes the Difference - Customized Getaway
By: Jann DH in Ottawa
I have always booked our get-aways, so I wasn't really sure what a "travel advisor" could offer our family of seasoned travellers. I was wrong. Sheila Gallant-Halloran added the finesse and expertise that made a good vacation, fantastic. She took the time to understand the needs of our family in order to create an experience... not just a vacation. And she found operators and hotels that I would likely have never considered. Sheila's knowledge and partnerships meant we were well taken care of while away.
Highly recommended - again!
New York Getaway -By: Nicole in Ottawa
Sheila has now convinced me of the benefits of using a travel advisor for travel!! I was somewhat skeptical at first thinking I could do just as good, and maybe even better, on my own. Not the case. It was very reassuring to know during our recent trip to NYC that Sheila was in contact with our hotel to ensure all went well with our arrangements with the hotel, especially given our travel delays. And indeed all went very well! We were treated like important guests and I'm certain it all had to do with us being Virtuoso guests! My only regret is that we didn't use Sheila to book our hotel for our upcoming trip to Montreal (it was booked months ago), but we will definitely be using .her for any upcoming trips. Sheila is a true professional and a pleasure to work with! thanks again Sheila!!
Highly Recommended - Every Detail was Perfect!
Tauck trip - By: Jennifer in Ottawa
I am extremely pleased with the trip Sheila booked for me. From flights that went very smoothly to being picked up at the airport to special experiences in Florence, Italy to a superb hotel, every single thing was perfect. The trip was everything I hoped it would be and more. Thanks so much to Sheila for making all the arrangements.
Highly Recommend
Regent Cruise - By: Hatsoff Harry in Ottawa
Sheila did an excellent job in finding us just the right trip to celebrate a special anniversary. Before giving us a few ideas she took the time to find out our likes and dislikes in a trip which was greatly appreciated by my wife and I. She is a very dedicated and thorough person and will use her again.