Fantastic trip to Spain!
Reviewed on: 16 Jul 2018
Sheila has been my travel advisor for many years and I have had nothing but great experiences for all our travels. She is very professional and provides high quality service. My family and I just returned from a 2 week trip to Spain. Sheila and her partners prepared a customized travel itinerary for us which worked wonderfully. Sheila also followed up with us during the trip to ensure that all was well and connected with us after the vacation to get some feedback on the accommodation, transfers, etc. I will continue to work with Sheila for our future travel requirements. Nathalie



Nathalie
Satisfied Client
---
"The rewards from working in travel have nothing to do with money. "Why" I work in travel is summed up in the excited email I received from a client. I'd helped him arrange a surprise birthday gift for his wife – he wanted to take her to Disney to celebrate her retirement, cross off a "bucket list" trip, fete her at the best restaurants, have her meet "Winnie the Pooh,", and generally act like a kid again.
This is an older couple. They are well travelled. And I'd organized trips for them previously that went well, and they enjoyed the experiences. But reading the husband's email about his surprise gift underlined for me "why" I am in travel."- Sheila

===========================================
"You have no idea how surprised, happy and all the emotions that you can imagine she demonstrated when she realised what was happening, and this was the start… We have to say that it was a marvellous and a magical week that we will always remember.  I understand why you return there so many times.  We will certainly go back as well….In short, there is no other word to explain our satisfaction/pleasure other than say this week was one of the most marvellous and magical weeks that [we]… have spent together…The dining plan with the reservations was great. We really appreciated what you have done. Thank you. All restaurants were great, the food, the service, the ambiance and also the fact that they all had the notes about the allergy and the birthday. I want to say again that [we] had a marvellous and a magical time at Disney World all week long, and we will always remember this outstanding journey.  I want to thank you very much for the work and effort you put in planning this trip for us. You made it so easy for us to enjoy and have a wonderful time. Until next time, thank you."
Richard N.
Ottawa
---
Trip to Riviera Maya – Feb 10-26, 2018
Reviewed on: 13 Mar 2018
Working for Sheila is always a pleasure. Sheila has so much to offer when discussing travel. I felt especially reassured this time around when discussing my travel plans with Sheila, because of all the terrible storms/hurricanes that took place in the Caribbean late last year. I had several concerns about the safety of travelling to these areas, and I wanted to ask someone i could trust, and I thought of Sheila right away. Our trip to Riviera Maya was great – the flights were on time, accommodations were good, and everything else was great too. We enjoyed our trip. Thank you again.



Lyne C.
Satisfied Client
---
I love getting client reviews.
Here's a terrific one from a valued client. (Thanks, Trefor!)
Trefor
Satisfied Client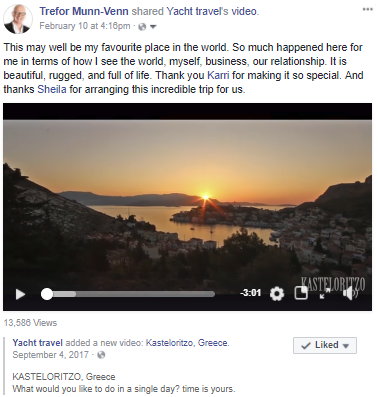 ---
Sheila, my go-to travel adviser
Reviewed on: 21 Dec 2017
Working with Sheila is always a pleasure. She sweats the details so I can focus on the fun stuff! I've used other adviser/agents in the past but now Sheila is my one and only travel adviser and I recommend her to others I know all the time.
W.K.
Satisfied Client
---
Tim loves to travel!
I love getting client reviews. Here's a terrific one from facebook from a valued client. (Thanks, Tim!)
Tim M
Satisfied Repeat Client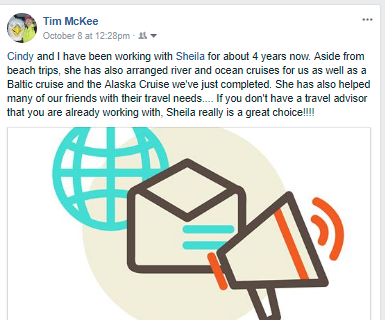 ---
More Testimonials