If you're a cruisier, or want to be, you likely already know about the benefits that come along with cruising—visiting multiple destinations, only unpacking once and having the option to join planned excursions or relax onboard. These are just some of the reasons to try an all-inclusive luxury river cruise?
Oh yes, we know that pesky virus is a concern – but river cruising is going to be the best cruising option moving forward.
River cruising comes with all the regular assets of cruising, as well as the advantages the many pluses only smaller ships can offer. When your cruise accommodates a few dozen passengers instead of a few thousand, you receive better service with high crew-to-guest ratios, enjoy an intimate onboard atmosphere and never find yourself waiting in lines. Best of all, you'll get a much more immersive experience at your destination, since river ships aren't restricted to large harbors and never use ferries to tender passengers ashore. You will dock right in the heart of town.
And – river cruising ships have to follow the health and safety rules of EACH country they visit. Safety is a priority.
This week, I'm hosting Uniworld river cruises for a presentation. I hope you can join us on Tuesday at 5 pm est. You will learn about Uniworld's truly immersive and all-inclusive experience at  ports of call, with airport transfers to the ships, where the pampering begins almost as soon as you walk onboard. Immersive excursions at every destination are all taken care of. You dine on a medley of five-star, locally sourced cuisine, accompanied by included premium spirits and wine.
These Uniworld floating boutique hotels are designed with every luxury and comfort. On the river, they are always close to land, meaning you have immediate access to shoreside resources. With your up-close view of the best sights and lesser-known discoveries in Europe, Russia, South America, Egypt, Asia and India, comes the convenience of instant access. Docked in the hearts of great capitals and quaint villages that are unreachable by ocean ships, you will never wait in line to get on or off the ship.
Furthermore, a renewed commitment to our already stringent health and safety standards offer you increased security. The small size and high crew-to-guest ratios of our ships ensure that they are thoroughly cleaned—regularly and often.
If you're interested in cruising next year a river cruise is the perfect way to step back into travel in 2021—and an opportunity to try something new!
So – why don't you join me on Tuesday. I'm hosting a special presentation with my partner at Uniworld, Federico Berardinucci, this Tuesday, October 27th at 5 pm est.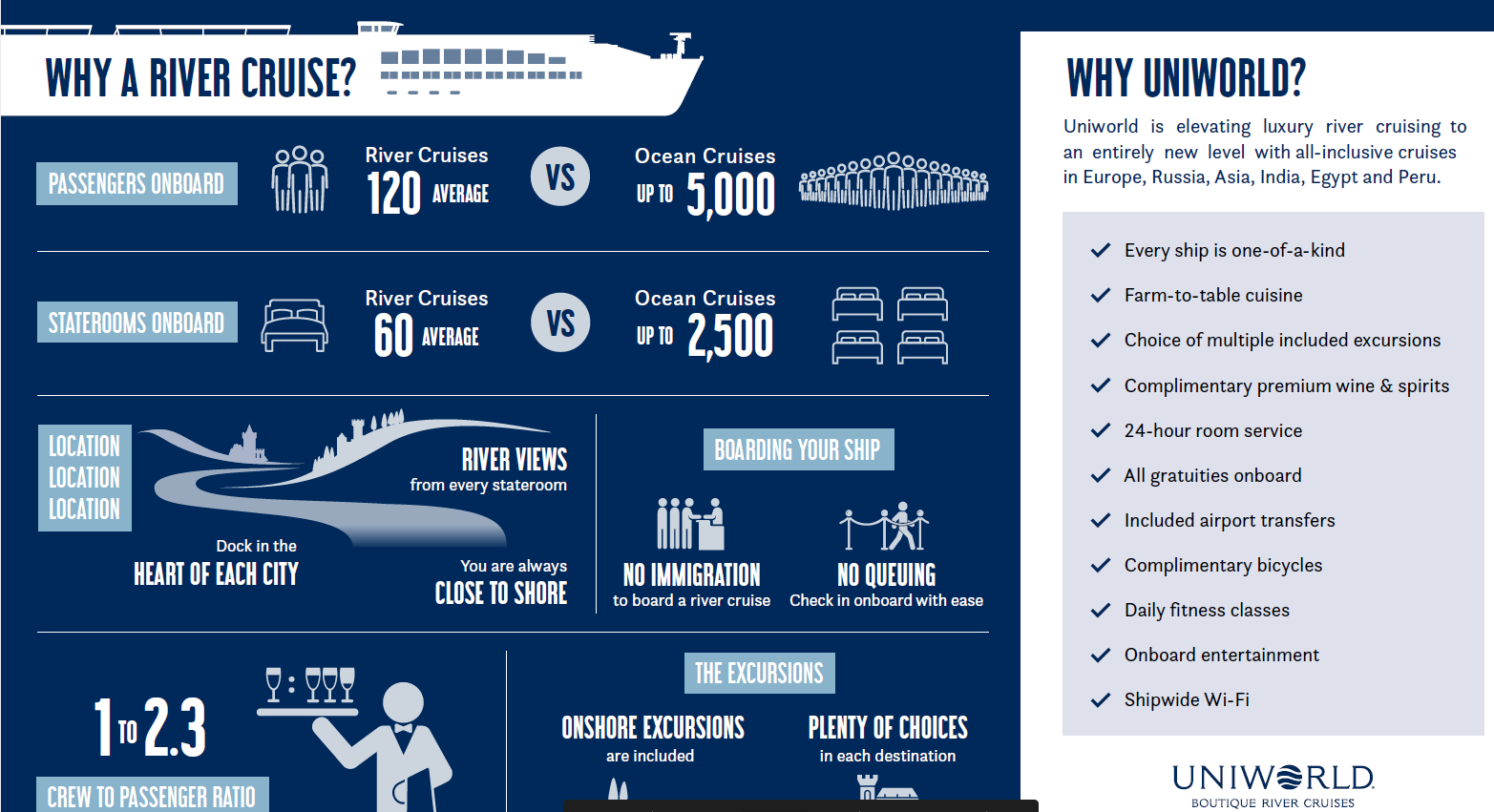 Join me online Tuesday at 5 pm for a Travel Tuesday zoom call – if you could take only ONE more trip.
I'm thrilled to be joined by my partners at Uniworld River Cruises.
We'll be giving a general overview of who Uniworld is, who their typical clients are, where they travel, what are the different brands (Uniworld classic and U River), why river cruising will explode first in a post-pandemic travel world, what are the changed protocols for CoVid, financial stability, etc. – as well as their most popular itineraries as well as a sampling of their more exotic ones. We'll also be sharing current offers – including solo traveler offers.
Sheila of Lush Life will be joined by her partner, Federico Berardinucci of Uniworld, to give a Travel Tuesday zoom presentation on October 27th at 5 pm est.
Join us if you can! https://www.eventbrite.ca/e/lush-life-travel-uniworld-river-cruises-tickets-126470880809