What's your "Return on Life?"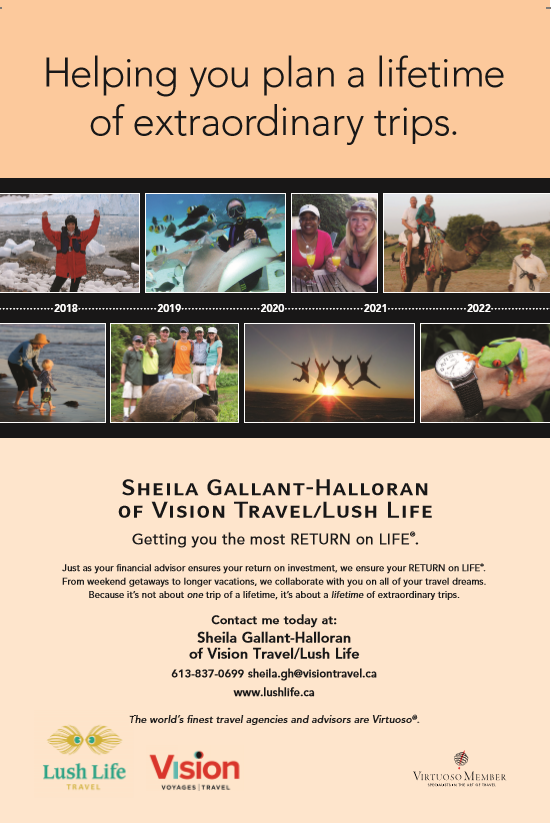 Just as your financial advisor ensures your return on investment, we ensure your Return on Life.
Time is not refundable, and your leisure time is the most precious and perishable asset you have.
Previously, as a consulting actuary, I dealt with 'return on investment.' Now, I deal with your 'return on life.' It's as though I transitioned from being a real actuary to being your 'happiness actuary' – and I leverage all of the financial skills, business acumen, travel experience, and global connections and one-to-one travel relationships to ensure your precious vacation time and dollars are invested wisely, and your vacation is done right the first time. help you travel the world, and live a lush life. Your most precious asset is your time with your family, and I help safeguard that investment of time.
WE BELIEVE TRAVEL TRANSFORMS MERE EXISTING TO LIVING A LUSH LIFE.
WE BELIEVE IN MAXIMIZING 'RETURN ON LIFE' BY BUILDING MEMORIES.
WE CRAFT EXPERIENCES THAT FOSTER CONNECTION, MAGIC, & WONDER. 
WE HAPPEN TO ORCHESTRATE TRAVEL DREAMS. WHAT'S YOURS?
My expertise in bucket list, adventure, and luxury travel; with additional specialties in sustainability, cruising, wellness, and family vacations. My black book of connections opens doors for you. I am located in Ottawa , Ontario; affiliated with Vision Travel Solutions (headquartered in Toronto); and have clients the world over.
I believe that travel helps us all become better global citizens, and by getting to know the world, we get to know ourselves. I like to inspire people to explore and care about the planet, and I embrace sustainable tourism. I am a proud member, and top producer, of each of the Virtuoso Adventure, Voyages, Wellness, and Family communities .
I've been doing this 14+ years, but before that I was an actuary for 20 years.
What I love most about my whole role as a travel advisor is BUILDING MEMORIES. Whether's it's a Galapagos expedition, a safari through Kenya and Tanzania, walking on the 7th continent after visiting the Falklands and South Georgia, an Italian walking & wine trip, a cycling trip around Myanmar, a Madagascar wildlife adventure, diving in the Arctic, a New Zealand self-drive holiday, a Danube river cruise, a Tahiti and Cook Islands cruise, a 7 bedroom villa in Jamaica with a cook, maid, and butler; or maybe just a "fly and flop" beach holiday; my focus is always about the experience, and ensuring you do something unique and memorable for your family.
With my focus on bucket list, adventure, and luxury travel, I help you plan lush life memories. As your travel advisor, I give you my 4 A's : 1.) advice, 2.) access, 3.) advocacy, and 4.) accountability.
Travel writer Pico Iyer says, "luxury is not about what you have, but what you don't have to worry about." I take away your worries. I deliver exceptional service, and help you maximize your Return on Life by leveraging my 10,000+ hours (a la Malcolm Gladwell) of working in travel, and leveraging relationships I've built with the "best of the best" partners:
Lindblad Expeditions * Big Five Tours * Natural Habitat Adventures & WWF * Tauck Tours * National Geographic Expeditions * G Adventures * Arctic Kingdom * Quark Expeditions * International Expeditions * Zegrahm Expeditions * Ponant * Un-cruise * Southern World * Swain Destinations * Tahiti Legends * Backroads * Butterfield & Robinson * Rocky Mountaineer * Paul Gauguin Cruises * National Parks * Nomadic Expeditions * Alpine Adventures * Aqua Expeditions * Australis * Uniworld Cruises * AMA Waterways * Crystal Cruises * Regent Seven Seas Cruises * Seabourn * Silversea * Fogo Island Inn * Newfoundland * Anguilla * Hawaii * Disney * Four Seasons Preferred Partner * Ritz Carlton Stars * Rosewood Elite
Contact me to orchestrate your travel dreams!
613-837-0699