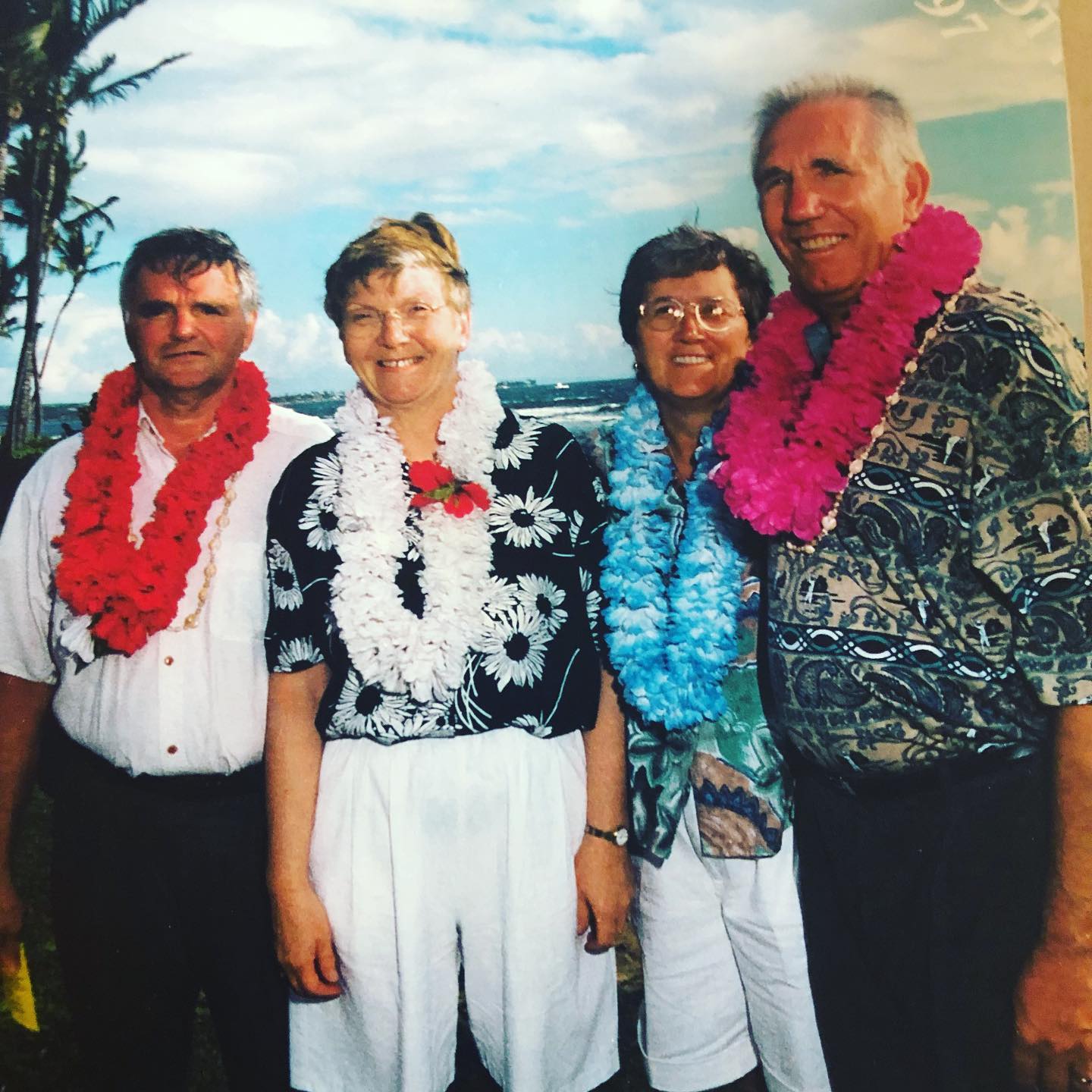 Photographs and memories.
Jim Croce is playing through my mind:
"Photographs and memories
All the love you gave to me
Somehow it just can't be true
That's all I've left of you."
My mom passed away two weeks ago.
Like my dad 16 years prior, she passed suddenly.
Leaving us all to mourn and cherish photographs and memories.
Thankfully, both my mom and dad got to travel.
This is a picture of them with their lifelong friends, Rich and Leah.
As my parents are reminding me from above, travel memories linger for years.
And photographs take us back to a special moment in time and place.
A special luau with good friends.
Hawaii is always a good idea.
===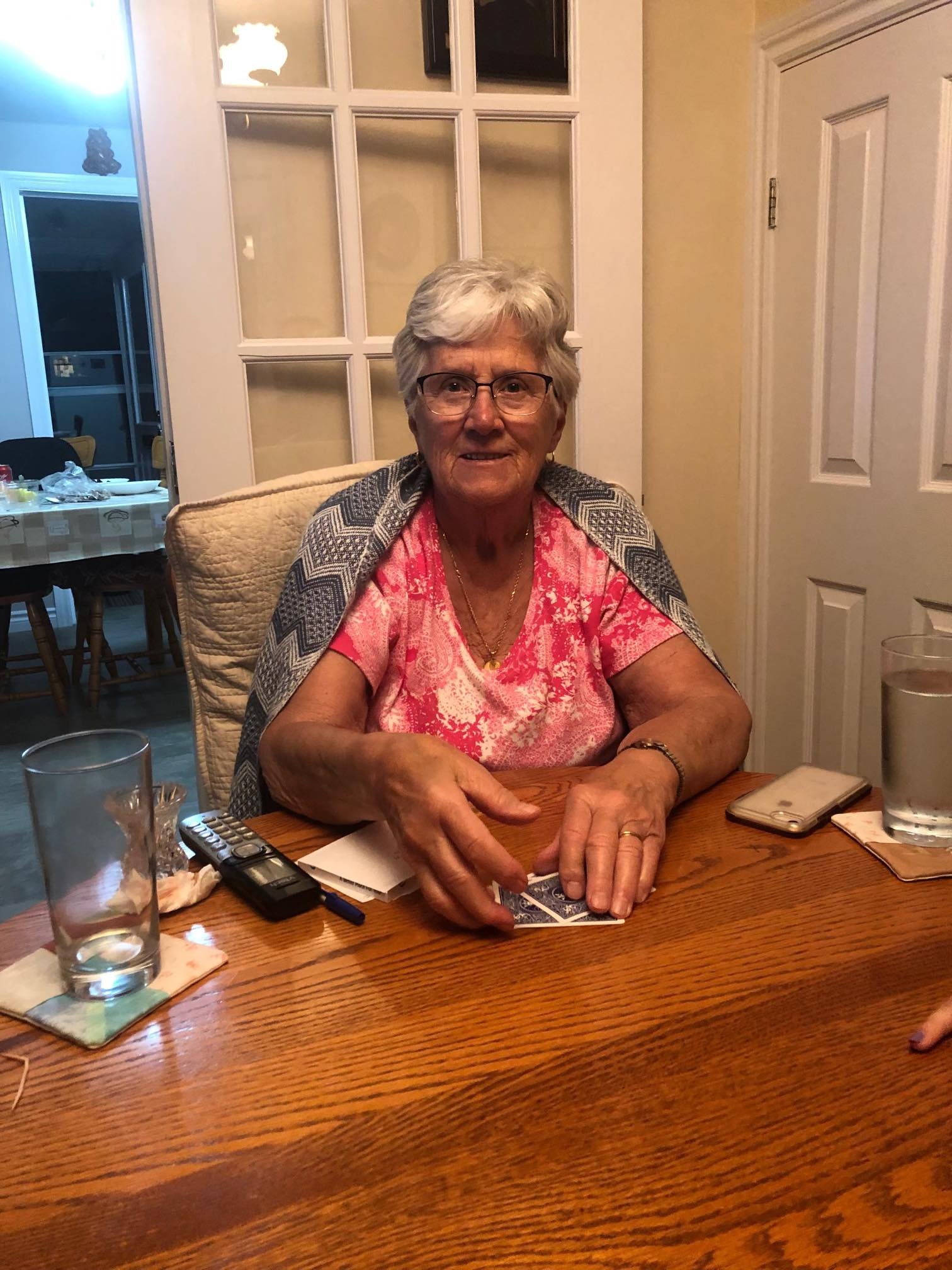 It is with heavy heart that the family of Mary Joyce Gallant (nee Quigley) announces her sudden passing at the age of 79 on Sunday, May 29, 2022. Mary left her home in Curling, Newfoundland, with a kitchen counter full of pies and cinnamon buns, ready for any friends and family who might pop in for a visit.
While we are comforted that she was welcomed into heaven by her husband, Joe Gallant, and her son Peter; she leaves her surviving children and their families in profound sadness – Sheila (Bill), Don (Carolyn), Jamie (Lise), and Brad (Paula). Her ten grandchildren were the light of her life, and she applauded their every life stage and accomplishment. Danny, Peter, Zachary, Ben, Ciara, Sandy, Erika, Kate, Andrea, and Ceili will carry on her love of parties, cards, and 'words with friends' – all while nursing a sharp wit, and a sense of fun.
Mary was a cherished friend, close confidante, and a devoted teacher at Sacred Heart School. She had a deep and abiding faith. She had a large extended family and group of friends, and could trace the family history and relations. She acknowledged everyone's birthdays and anniversaries, and we will all miss the special calls and other thoughtful remembrances.
She is predeceased by her parents Jim and Dot (Joyce) Quigley, and her siblings Jim (Rosalie), Wish, Dot (Bill), Sadie, Dominic (Joan), Phonse, and Patrick; and will be sorely missed by her surviving siblings Dermot (Kathleen deceased), Tom (Gerry), Joe (Annette), Ann (John), and brother-in-law Ray. She mourned her husband Joe's late siblings Roy, Gerald (Donna still living), Doug (Mary Lou), and Betty (Paul still living); and stayed close to her surviving brothers and sisters in law Phil (Sharon), Linda (Rod), Rita (Chris), George (Roz), and Pat (Irene). She will be missed by her lifelong friends Leah & Rich Byrne, Eva & Kevin McCarthy, Rose & Percy Joyce, Jack & Marie (dec.) Pennell, Clare Walker, Kay Musseau, Mary Bruss, and so many dear friends that were first and second cousins. (We risk offending someone by giving an incomplete list of names.) She also formed special bonds with all her nieces and nephews.
Special thanks to Aunt Rita, Leah, Aunt Gerry, and Madonna Mitchell for your continued support and caring over the years.
We are cheered thinking that Mary is currently rounding up Nan Q, Aunt Marie, Aunt Poll, Aunt Mary, Gran, and her sisters Dot and Sadie for a game of auction. We hope the first round will have her shouting "slam" on the blind.
Friends and family are invited to the visitation Tuesday, May 31st from 7-9 pm; and Wednesday, June 1st from 2-4 pm and 7-9 pm at Fillatre's Funeral Home in Curling. A funeral Mass will be held by Father Jim Robertson on Thursday, June 2nd at 10 am at Sacred Heart Church in Curling. In lieu of flowers, please make a donation to the charity of your choice.
===