---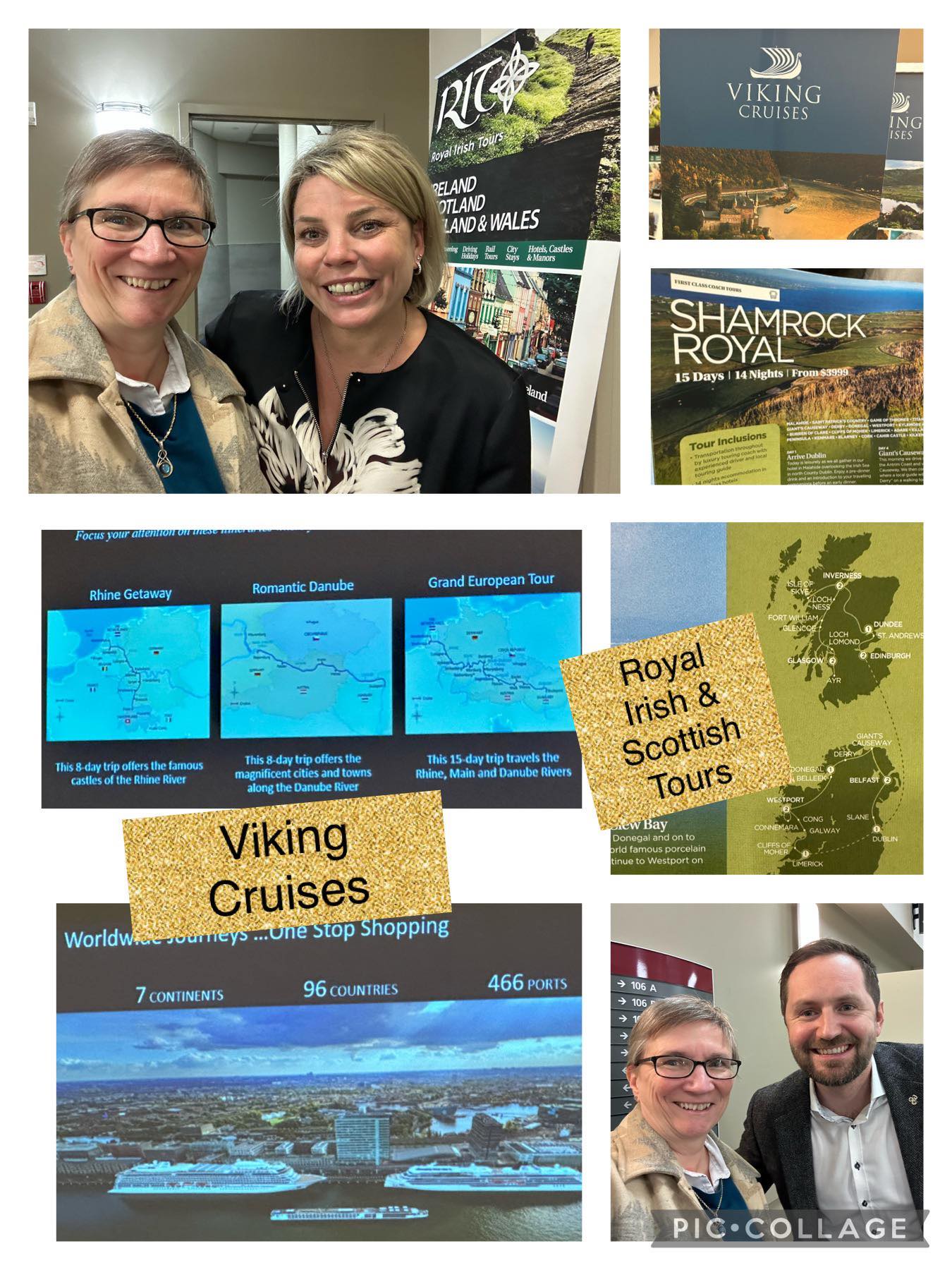 This week, I attended a trade presentation with my Business Development Managers from Viking Cruises, as well as Royal Irish (& Scottish) Tours.
It's a trend to have non-competing travel partners double-up for cross country presentations of what's new to travel advisors like myself.
My BDMs from Viking, Jordana Botting, and Royal Irish Tours, Jonathan Sargeant travelled to Ottawa on Thursday to meet with me, and update me on all that is new in their worlds of travel – so I can keep abreast of the latest developments for you to travel the world better.
It was great to make the personal connections again and have personal meetings with them again after all pandemic meetings over zoom.
Royal Irish Tours is a great Canadian company with Irish heritage. This year, we celebrate 19 years of sharing Ireland with you. It's been our genuine pleasure to invite you to experience Ireland up close and personal, and we're proud of the part we've played in helping to create thousands of exceptional vacations. As our business has grown during this time, the fundamental purpose of Royal Irish Tours has remained the same: to give you an authentic, hand-crafted vacation experience that you won't soon forget. Take advantage of the special deals that will be available for this year only, and come celebrate Ireland with us!
Though Canada is home for the Duffy family, Ireland is in our blood. This patriotic love is the driving force behind everything we do. We pride ourselves on the unparalleled, personal experiences that we make possible through our strong familiarity with the land and its locals. The care we have for Ireland will be evident throughout every detail of your tour.
RIT offers a great selection of Irish (and Scottish too with Royal Scottish Tours arm) escorted in groups (packaged or custom) to chauffeur-driven trips to self-drive touring.  They have great touring packages like https://ritvacations.com/ireland/tour-details/coach-tours/shamrock-royal/
sightseeing tours like https://ritvacations.com/ireland/tour-details/sightseeing-tours/wild-atlantic-experience/ to Whisky tours https://ritvacations.com/scotland/tour-details/sightseeing-tours/islay-whisky-coast/
Their Celtic Classic covers the best of Ireland and Scotland https://ritvacations.com/ireland/tour-details/coach-tours/celtic-classic/
=============================================
And with Viking, Jordana had lots to share about everything new in their world of River Cruises, Ocean Cruises, and now Expedition cruises. Viking has done a tremendous job with their advertising over the years (if you've ever watched Masterpiece Theatre, a golf tournament, or even CNN lately,  you've likely seen a Viking ad.)  They have really raised the profile of river cruising with many travelers around the world in the 25 years they've been around. They keep the river cruising inclusive as possible, but knowing their clientele, they strip away a lot of extras that some other lines include (such as bikes onboard, exercise rooms, etc.), and put a few more guests onboard (190 passengers) one of their typical Viking longships to provide a quality product that enables them to take thousands of passengers across European rivers each year.
As Jordana shares, there is an 80% name recognition of the Viking brand – so – I'm sure you've heard of the company.  And Viking has extended their river cruise brand recognition by extending into ocean cruises over the last few years, and they're also moving into expedition cruises.  With river cruises that visit Europe, Egypt, Asia, the Mississippi, and in better days, Russia and Ukraine.
Viking River Cruises boasts the most extensive fleet of river cruises vessels, and we are proud to offer you the best ships in each region where we travel. Viking ships are specially designed to navigate the world's great rivers and provide convenient daily access to a plethora of destinations and experiences. Enjoy all the comfort and elegance of river cruising: attentive and professional staff, delicious onboard meals and spectacular scenery from every stateroom and public area.
The most popular river cruse itineraries are the Rhine Getaway, the Romantic Danube, and the Grand European.
https://www.virtuoso.com/advisor/sheilagallanthalloran/cruises/131904/grand-european-tour
But Viking also does world cruises https://www.virtuoso.com/advisor/sheilagallanthalloran/cruises/181254/viking-world-cruise
and Iceland and homelands https://www.virtuoso.com/advisor/sheilagallanthalloran/cruises/169609/viking-homelands-and-majestic-iceland
and Australia circumnavigation
https://www.virtuoso.com/advisor/sheilagallanthalloran/cruises/sailings/16543331/grand-australia-circumnavigation-20jan2025-20feb2025#.Y-kswnbMKUk
Let me know if you'd like to learn more.