Spring is coming (I hope – it's snowing outside my window as I write this), but one thing is certain – Amsterdam is planning for the tulips.
Do you want to go see them?
You can discover the vibrant colors and lively atmosphere of tulip season in the Netherlands from March 23 to May 14, 2023.
Keukenhof Tulip Gardens is open from March 23 till 14 May 2023. It's the best day out among the tulips near Amsterdam!
Every year, more than 7 million flower bulbs are planted by hand in the autumn to flower in spring. There is a variety of 800 different tulips. A unique and unforgettable experience for everyone.
You can see the Keukenhof schedule here
And, of course, I have various partners who have trips in and around Amsterdam – river cruises and hotels, and maybe a land tour or two as well.
---
Here's a hotelier partner:
You can discover the vibrant colors and lively atmosphere of tulip season at the Conservatorium Hotel Amsterdam, which is offering customizable excursions for guests to experience the festival at its finest. You can pick a custom bouquet yourself, take a helicopter flight over the rainbow of colors, or take an intimate tour of the fields to see the flowers up close.
And when you book a Signature Suite stay of two nights or longer through May 29, you'll receive a complimentary one-way airport transfer or round-trip airport transfers, plus Virtuoso exclusive amenities. https://www.virtuoso.com/advisor/sheilagallanthalloran/suppliers/11160500/conservatorium-hotel-amsterdam
---
And, of course, river cruises abound.
AMA Waterways offers a CRUISE FROM : AMSTERDAM TO AMSTERDAM
Celebrate spring in the Netherlands and Belgium when the Keukenhof Gardens and Floralia come alive. Experience Amsterdam's colorful canals, the whimsical Kinderdijk windmills and the art of Rubens and Michelangelo. Discover the timeless traditions of Delft porcelain and revel in the medieval architectural treasures of Bruges, Middelburg and Ghent. Throughout your journey indulge in Belgian chocolates, warm waffles and delicious cheeses—all while savoring the storybook atmosphere of the region. See 
https://www.amawaterways.ca/agent/lushlife/destination/europe-river-cruises/2023/tulip-time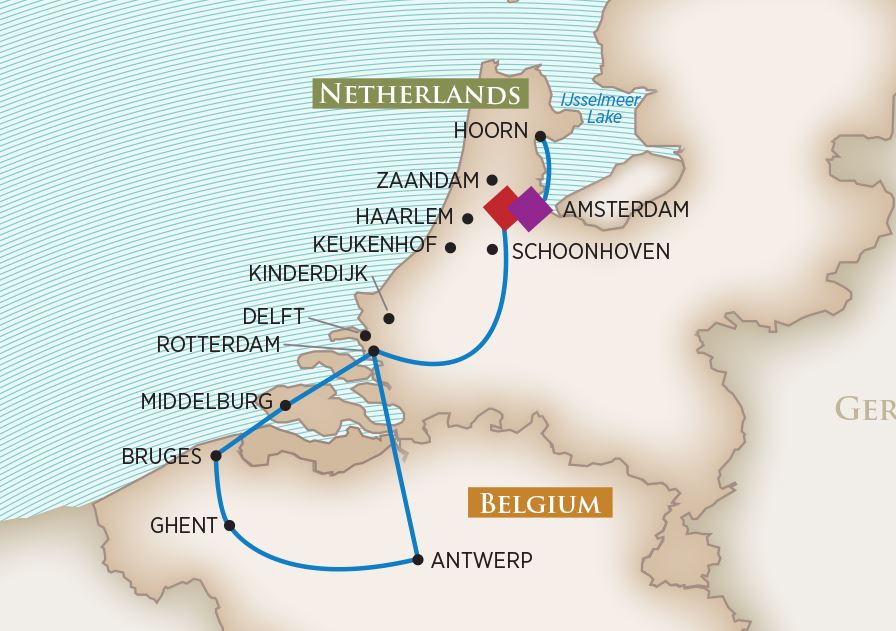 As AMA notes:
Often called the "Venice of the North," Amsterdam is one of Europe's loveliest cosmopolitan cities with captivating beauty and a uniquely enduring charm. You can visit this vibrant city as part of your Rhine River or Dutch & Belgian Waterways river cruise as well as on optional land package before or after your sailing.
A City of Canals and Bridges
At a mere 800 years old, Amsterdam is a relatively new city by most European standards. A hub of activity during the Dutch Golden Age, Amsterdam quickly sought a way to maximize land and stimulate trade and transport and created a labyrinthine-like network of over 165 man-made canals, wrapping the city with a combined length of roughly 60 miles. Now a UNESCO World Heritage Site, the area includes 1,281 bridges (including its most famous: the Skinny Bridge aka Magere Brug), 1,550 so-called 'monumental buildings,' 2,500 houseboats (and some of these structures have remarkably been afloat for over a hundred years themselves) and miles of colorful, quaint cobblestone streets.
AmaWaterways allows you to explore these iconic canals in a variety of ways. On your river cruise, you can take a special canal cruise through Amsterdam and observe bridges such as the Skinny Bridge up close. As part of select Amsterdam land packages, you may take a canal tour in Haarlem, the capital of North Holland and one of the most photogenic cities in the Netherlands.https://www.amawaterways.ca/agent/lushlife/connections/tulip-time-2023/canal-street 
---
Uniworld also offers https://www.uniworld.com/ca/river-cruise/central-europe/rhine/holland-and-belgium-at-tulip-time/2023-brussels-to-amsterdam 
This itinerary adds a contemporary flair to the classic tulip time experience.
You'll find an ideal mix of old and new, historic and modern, in some of Europe's liveliest cities on this journey. Spend time in Amsterdam and Maastricht, allowing you to discover great shopping, countless active options and mouthwatering foodie destinations. Explore Belgium's historical and contemporary capital city of Brussels, home of a rich and vibrant culinary tradition. Discover Antwerp's penchant for tasty treats, including Belgian waffles, beer, pralines and chocolate on a walking discovery tour of the diamond capital of the world. In splendid Maastricht, a city with hundreds of national heritage sites, you'll uncover why it's known as one of the most beautiful cities in all of Holland. Follow in Van Gogh's footsteps with a stroll through Nuenen, where you'll wander through the sites that inspired much of his art. Delight in a visit to Kinderdijk to see its 19 well-preserved windmills that have stood the test of time.
---
And Collette offers https://www.gocollette.com/en/tours/europe/france/netherlands-belgium-france-featuring-keukenhof
Collette offers escorted tours that take the mystery and planning out of sightseeing – and – I still have access to some exclusive offers until the end of February. Plus, they are friendly to solo passengers.
Dutch windmills, cozy streets, bubbling champagne, and the "City of Light" – experience the essence of 3 European countries. Explore the world-famous Keukenhof Gardens. Cruise through the canals of Amsterdam on a private boat. Stand in awe before the powerful windmills of Kinderdijk. Spend 2 nights in the storybook town of Bruges. Spend the day in the lively city of Brussels. Travel along the Route du Champagne and enjoy a local tasting menu. See Parisian boulevards through an open-roof retro car at night. Make the most of a free day in Paris. Connect with deeply rooted cultures as you make your way through the Netherlands, Belgium, and France.
---
Let me know if you'd like to tiptoe through the tulips! (You're seeing the Tiny Tim song now, right?)
Here's the song on youtube .
Contact me to arrange your holiday to the Netherlands. [email protected].ca