Is Antarctica on your bucket list?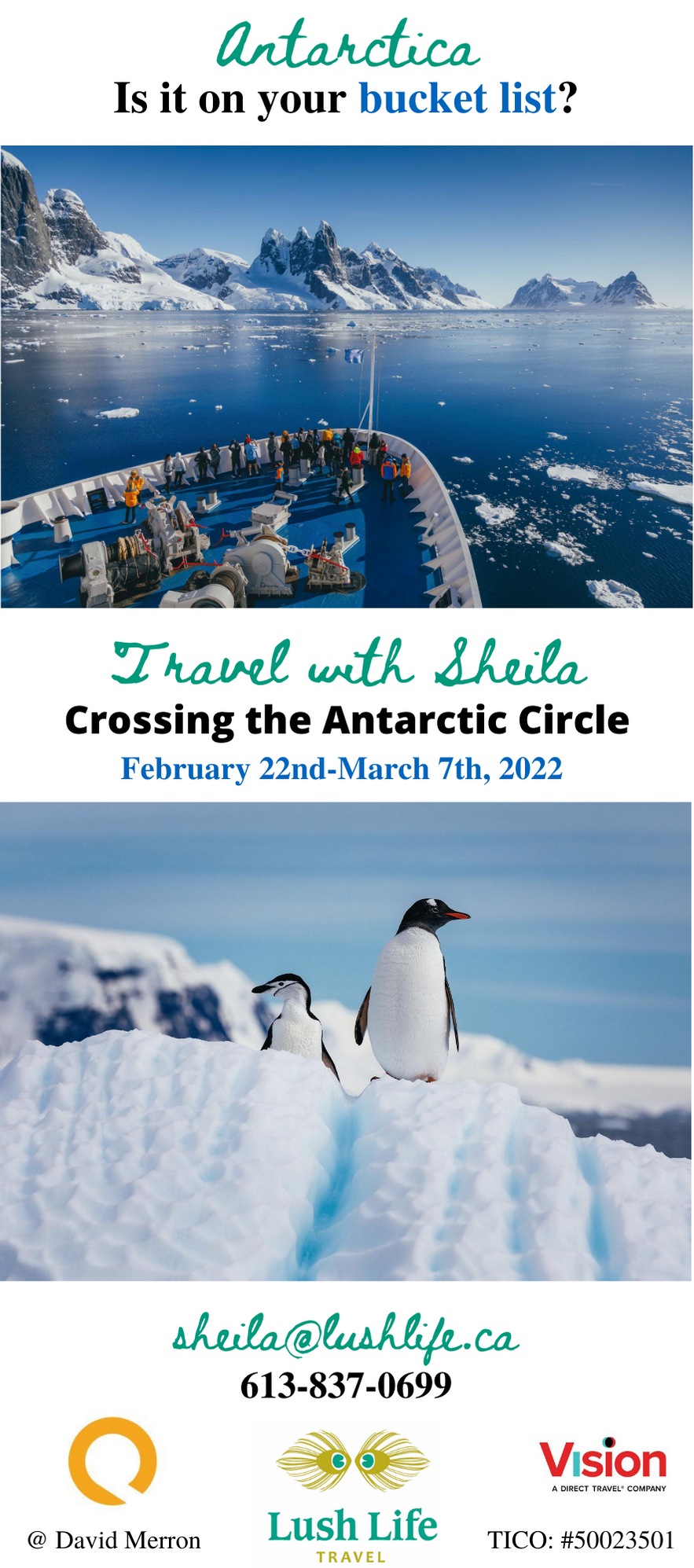 If you have always dreamed of walking on the seventh continent, you should be planning now.
How about you join me in February 2022?
And I have a really sweet deal for February 22, 2022 on a group I'm hosting onboard Quark's Ocean Diamond. I'll spend 11 days Crossing the Circle.
You may have attended my zoom presentation with Cara Matthew from Quark. If not, you can watch the presentation here 
Quark Expeditions – Antarctica Watch here
I thought I'd let you know about a development that if you're considering it, may speed up your decision process.
Quark has taken the difficult decision to cancel their entire 2020-2021 Antarctica season because of CoVid. They decided to do this, even though there are no cases of CoVid in Antarctica, because there would be so much difficulty in getting international flights at the start of the season, and rather than do a rolling suspension (keep this date, cancel next, and then keep repeating), they've cancelled all of 2020-2021 to protect their clients, their crew, and the partners they work with along the way; and start anew with the 2021-2022 Antarctica season.
This was a responsible decision by Quark. Quark is in a healthy financial position, despite this decision (and actually, it's healthy position is probably why and how they've been able to decide to do this. Quark is owned by a private equity group, the 3rd largest in the world, KKR, and they are not as impacted as other cruise lines and travel companies might have been with CoVid that are publicly owned.). They are continuing their Arctic season. Just Antarctica for 2020-2021 has been impacted by their decision.
What does that mean to you if you're thinking about Antarctica? Well, everyone who had been booked in 2020-2021 with Quark is now re-booking into their 2021-2022 Antarctica season. So, the demand on their 2021-2022 Antarctica sailings is going through the roof – and – there is very limited supply. (And we all know that limited supply puts upward pressure on pricing, so, Quark is going to see their 2021-2022 Antarctica pricing go up over the next little while, and current promos will disappear). But the space available is so limited that Quark has reached out to me to see whether I might release some cabins in my group (that are price- protected, currently – at a severely discounted rate. I have 25% off the regular pricing – and if you pay in full, 35% off.)
I asked my Business Development Manager to let me reach out to those who'd expressed interest previously to see whether this is still being considered – because – if it is, I'd rather you get the cabin at 25% off (35% off if you pay in full) than release the cabins to Quark to re-accommodate another passenger. Kindly note, they have people today ready with credit cards to take these cabins.
I already have 4 solo travelers booked. But I still have cabins for couples, or solos to share with several twin cabins and now two suites. Please let me know if you might possibly be interested in one of these extremely discounted cabins.
Kindly note – many who'd attended my zoom call with Quark were concerned about insurance. Obviously, 2022 is still a far off time. You're likely aware of recent developments with Air Canada, Westjet, and Sunwing working with Manulife and other insurers to provide CoVid protection. There has been significant movement on protection, and that will continue to evolve with time. (e.g., Pax – and see articles here:  West Jet , Sunwing , and AC .) There will be further changes that will no doubt offer options to you.
Please let me know if you want me to put a hold down for you on one of the 8 cabins I am still holding at this super price! (Before I have to release to Quark! I've already sold one.)
I'm pleased to give you the additional detail on the Quark Feb.22.22 Antarctica journey that I'll be hosting. I hope you might consider joining me! It's going to be an amazing adventure.
In case it might interest you, here is a detailed flyer outlining are the details about the general Quark "Crossing the Circle" trip. This is the general overview document for all "Crossing the Circle" journeys that Quark offers. Kindly note that the pdf has retail pricing noted for regular individual bookings.
The pricing that I've negotiated for my group for the February 22, 2022 sailing is extra special – with 25% off, plus an additional 10% off if you want to pay in full. There is also a reduced 10% deposit option (with final payment 120 days out), as well as a terrific Virtuoso perk that I can get for my clients.
I'm pleased to be able to offer you an incredible discount if you might want to sail with me!
Travel with Sheila!
Crossing the Circle
Aboard Ocean Diamond
February 22nd, 2022 to March 7th, 2022
Ushuaia/ Ushuaia
Here is pdf on trip sgh 2021.22 Crossing the Circle
I have discounted rates for the group, and am holding specific cabins as an allotment currently. I currently have 8 cabins left. Three solo ladies are already confirmed.
Kindly note:
1. Pricing is in USD – see the chart below for group pricing
2. The group discount is 25% off the retail rate, as shown in the table. (this is the result of a current 20% discount as an early booking bonus/ consumer promo, which may be withdrawn at any time – plus another 5% group booking bonus)
3. If you would like to pay in full, an additional 10% discount is available – currently that pay by date to secure that additional 10% off is Sept.30.20 (which I may be able to push out – let me know if of interest)
4. This is combineable with 5% past passenger discount and past passenger gift cards.
5. I have special extension of the 10% reduced deposit option, with final payment due 120 days prior to departure. (But the 10% deposit is calculated on the full retail price, not the discounted group rate.)
6. I currently am holding still 3 twin obstructed views, 1 twin windows, and 2 suites.
7. The rates noted below are for the cruise (with inclusions and exclusions noted below), per person in USD. (cabin rates also listed for twin/ double occupancy).
8. Air, insurance, adventure options, and pre and post-hotel extensions may be arranged through Lush Life/ Vision Travel for additional cost. (A small booking fee will apply to any air booked independently of Quark's offerings.)
9. Cruise inclusions:
• Shipboard breakfasts, lunches and dinners (Please inform us of any dietary requirements as far in advance as possible. Unfortunately, the ships' galleys cannot prepare kosher meals).
• Shore landings included in daily program.
• Professional Expedition Leadership.
• Formal and informal educational presentations by the Quark Expeditions® Team.
• Online Photographic Journal.
• The loan of a pair of waterproof boots for the duration of the voyage per passenger.
• An official 3-in-1 Quark Expeditions® parka to keep.
• $250USD per person onboard Ship Credit (Virtuoso Amenity)
• Coffee, tea, cocoa, soft drinks and juices available around the clock.
• Domestic beer and wine with dinner.
• Hair dryer and bathrobes in each cabin.
• Comprehensive pre-departure package including the Quark Expeditions® Polar Reader.
• All miscellaneous service taxes and port charges throughout the program.
• All shipboard luggage handling.
• Emergency Evacuation Insurance to a maximum benefit of $500,000 USD per person.
• All Zodiac excursions and transfers included in the daily program.
10. Not included in fare:
• International air • Passport and visa expenses.
• Government arrival and departure taxes.
• Meals ashore, other than the breakfasts included with the hotel accommodation.
• Alcoholic beverages outside of domestic beer and wine at dinner or Polar Boutique store charges.
• Baggage, cancellation and medical travel insurance.
• Excess baggage charges.
• Shipboard communication charges, laundry and other personal charges.
• Voyage-end gratuities for Crew, Hospitality and Expedition Team members.
• Adventure Options
11. Payment
• To confirm reservations, a deposit of 10% needs to be made for the cruise fare payable to Quark by Lush Life/ Vision Travel, plus $50/p, plus gst, group booking fee will be payable to Lush Life/ Vision Travel.
• Full payment for the confirmed final reservations will be due 120 days prior to departure.
12. Cancellations
• If the group is cancelled, Quark's standard terms and conditions at https://www.quarkexpeditions.com/expedition-terms-and-conditions will apply, as follow:
o All requests for cancellation must be received in writing. Cancellations cannot be made online.
o Cancellation fees apply to the entire expedition booking, including expedition fare, air add-ons, ground transfers, pre- and post-expedition hotel and tour packages.
o If any non-expedition components are canceled, the client will be responsible for any cancellation fees imposed by the airlines, other transportation carriers, other tour and ground operators, and other hotel properties.
o Any refunds will be made directly to the method of payment used at the time of booking
• Prices quoted are based on group participation and no refunds will be made for any part of the program in which client choses not to participate. It is understood that refunds cannot be made to passengers who do not complete the services for any reason whatsoever.
• Should Quark not operate the voyage, please refer to the standard terms and conditions at https://www.quarkexpeditions.com/expedition-terms-and-conditions
• Receive 120% Lifetime Future Travel Refund Credit (FTRC) for voyages where full payment at time of cancellation has been received by Quark Expeditions. This higher value of 20% credit on your monies paid gives Lush Life Travel/Vision Travel Solutions' client the flexibility to select a longer voyage or upgrade a cabin when the time is right for you or a loved one to travel.
• Receive 100% Lifetime Future Travel Refund Credit (FTRC) for deposits or other partial payments at time of cancellation received by Quark Expeditions
• The $50/p, plus gst, group booking fee payable to Lush Life/ Vision Travel is non-refundable. (A service agreement will outline inclusions.)
• In addition to Quark's term and conditions, plus any airline charges, Lush Life Travel/ Vision Travel has a 10% cancelation penalty for trips paid in full (presuming Quark is operating the voyage).
13. Terms & Conditions
• All other terms and conditions as indicated in the Quark's standard terms and conditions of sale apply to passengers: https://www.quarkexpeditions.com/en/terms-and-conditions .
• Lush Life Travel/ Vision Travel will require the completion of a service agreement (to be shared with credit card authorization form https://www.visiontravel.ca/sheilagh/en/creditcard-authorization), and CoVid waiver https://www.visiontravel.ca/sheilagh/en/covidwaiver.
14. Travel Insurance
• An Emergency Evacuation insurance policy is included in the rate. However, it does not provide coverage for cancellation, medical expenses, or baggage. Quark requires that all passengers provide proof of out of country medical insurance which must include a minimum USD $50,000 of emergency medical coverage and in addition, strongly recommends they purchase a comprehensive policy to cover themselves for cancellation and baggage.
• Lush Life/ Vision travel will review insurance requirements with the client, and, if necessary (for insurance already in place or purchased elsewhere), require clients to submit a Vision insurance waiver agreement. https://www.visiontravel.ca/sheilagh/en/insurancewaiver