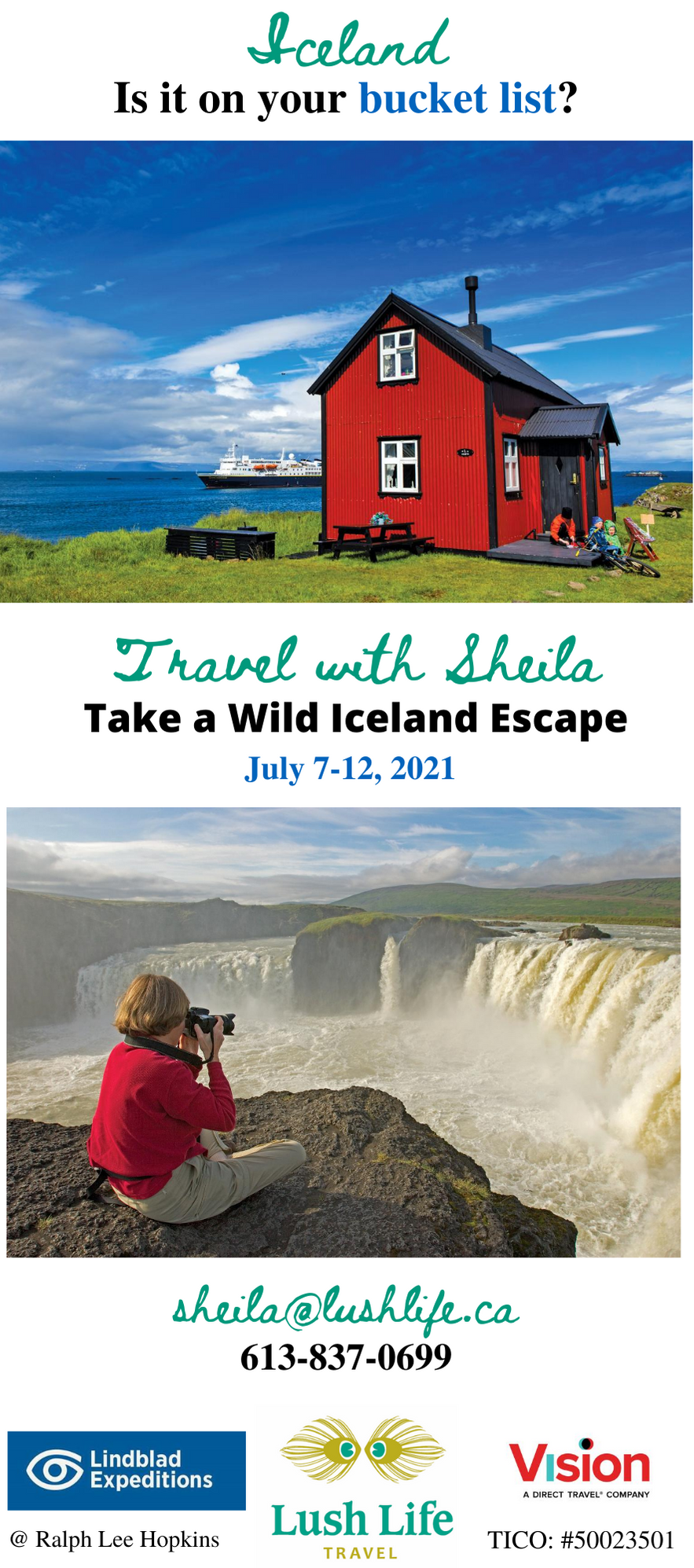 I'm going to travel with Lindblad Expeditions to Iceland next July on a Wild Iceland Escape.
Six nights to escape to the "land of fire and ice" – I want to immerse myself in the land of fjords and volcanoes. And I want to go with the best-of-the-best expedition cruise partners.
Wanna join me?
And having just walked Zac Efron's "Down to Earth" about Iceland, I'm more pumped than ever. Did you know that the country of Iceland can power itself 100% renewable sources?
With this virus messing with our travel plans in 2020 in a huge way, we have to make up for it in 2021. And a bucket list trip with the best-of-the-best expedition company is the way to go.
Wanna know why @lindbladexp ? They've been taking explorers to Antarctica, the Galápagos, and around the world for over 50 years, with top notch naturalists on-board, and a company that is committed to conservation and sustainability.
Also – Lindblad has the first self-disinfecting fleet in the cruise world. Lucky for all of us, this was just an indication of their being at the forefront and leading innovation, because they had this launched in 2020 before this pesky virus came along. So you know you'll be safe on-board – and that's before all the top CoVid protocols were layered atop of their normal practices.
And, if you're a little nervous about what the future of travel might be next July, know that Lindblad is committed to your peace of mind. They have a pretty epic version of social distancing. Plus, you can cancel your expedition at least 14 days prior and get a 100% future travel credit.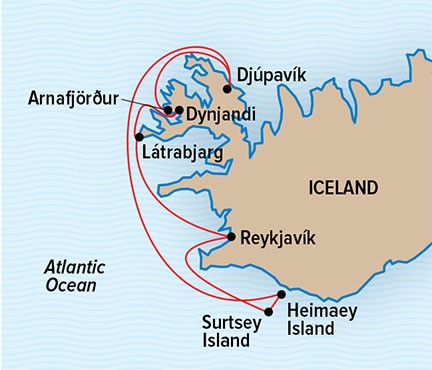 Here is an overview:
• Day 1 U.S./Fly To Reykjavik, Iceland
• Day 2
Arrive Reykjavík, Iceland/Embark
• Day 3
Djúpavík
• Day 4
Arnafjörður and Látrabjarg Cliffs
• Day 5
Islands of Surtsey & Heimaey, Westman Islands
• Day 6
Reykjavík, Iceland/Disembark/Home
Doesn't this photo of the Blue Laboon by @ralphleehopkins just inspire you to go?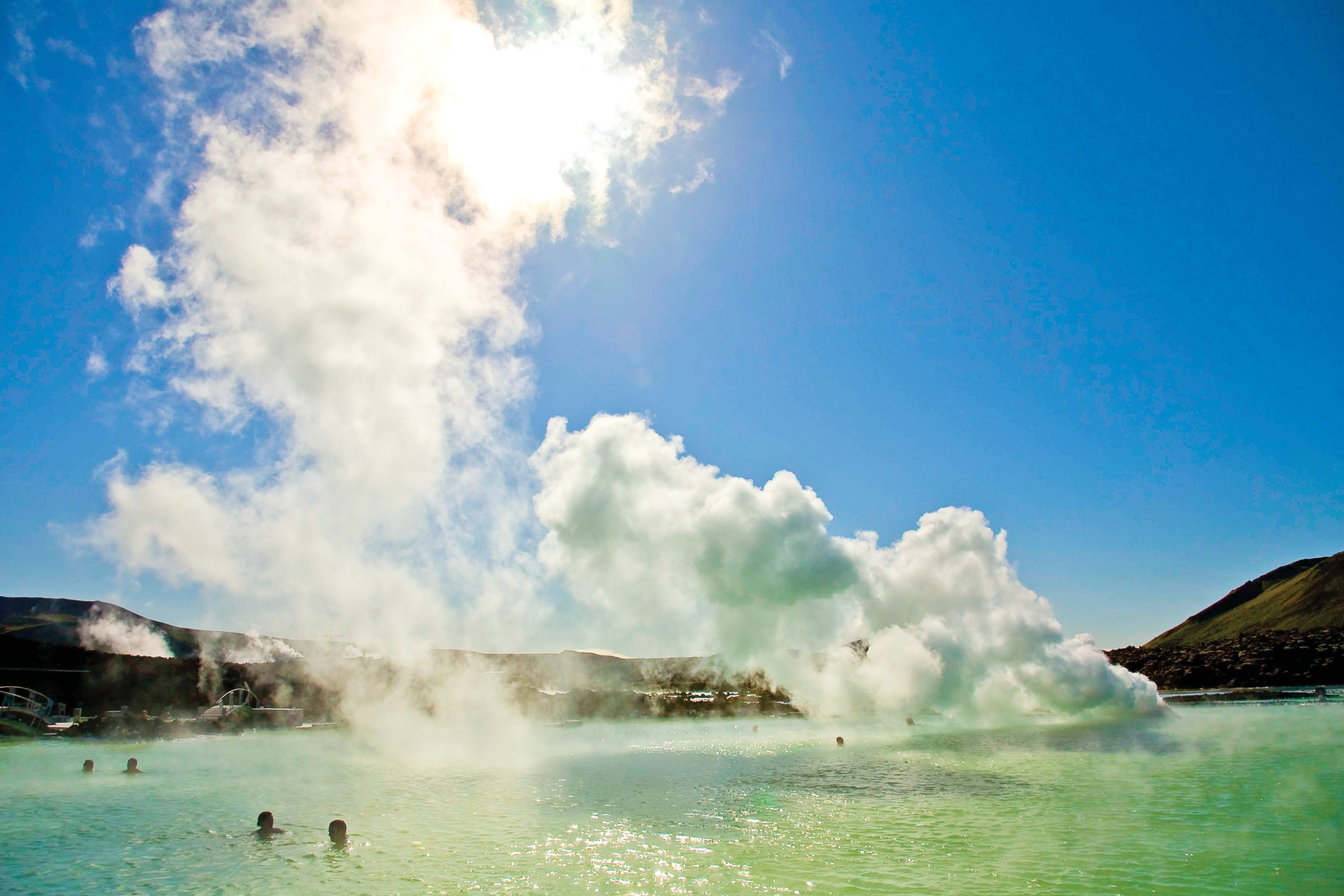 Here's a video too, by Lindblad, all about the hot springs & icebergs.
---
Day-By-Day
Our itinerary & experience make the most of your time & curiosity
________________________________________
Flexibility is a hallmark of our expeditions, and often the day-by-day itinerary will change as we take advantage of rare wildlife sightings or photographers linger ashore through the golden hour of light. Extraordinary adventure is a guarantee.
•
DAY 1: U.S./Fly To Reykjavik, Iceland
Depart on an overnight flight to Reykjavík.
•
DAY 2: Arrive Reykjavík, Iceland/Embark
Arrive in Reykjavík, the world's northernmost capital, which lies only a fraction below the Arctic Circle and receives just four hours of sunlight in winter and 22 in summer. Have a guided overview of the Old Town, including Hallgrímskirkja Cathedral with its 210-foot tower, and perhaps shed some light on Nordic culture at the National Museum, with its Viking treasures and artifacts, and unusual whalebone carvings on display. Embark National Geographic Explorer. (L,D)
•
DAY 3: Djúpavík
Enjoy a leisurely morning at sea, learning about Iceland and its incredible diversity. We will spend the afternoon on the remote eastern side of the Westfjords to experience rural Iceland. This corner of Iceland is difficult to access and is seldom visited by many people but boasts spectacular beauty and rich history. We will take advantage of the dramatic landscape of the fjord to offer hiking, leisurely explorations of the tundra, and perhaps photography of wildflowers. The tiny town of Djúpavík held its place on the map because of the golden age of herring. During its heyday in the 1930's, its herring plant was the largest concrete structure in Iceland. The plant closed in 1954 but remains as a small museum and a memory of the rich productivity of the herring industry in Iceland. We'll visit the museum and learn about the significance of this resource to all of Iceland in the 20th century. (B,L,D)
•
DAY 4: Arnafjörður and Látrabjarg Cliffs
In the early morning, our ship will glide into beautiful Arnafjörður, along the northwest coast of Iceland. For a more active experience, disembark early and hike several miles along the base of the fjord to visit spectacular Dynjandi Waterfall. Alternatively, join our expedition staff on the bow of the ship as we venture ever deeper into the fjord and then go ashore by Zodiac to walk up to the base of the waterfall, passing nesting arctic terns along the way. This afternoon, sail past the immense Látrabjarg Cliffs, the westernmost point of Iceland and home to a huge population of razorbills. The cliffs are an area once famous for egg collecting; the men were tied to ropes and lowered like spiders down onto the ledges. Conditions permitting, we may also launch our Zodiacs to see the incredible cliffs from the waterline. (B,L,D)
•
DAY 5: Islands of Surtsey & Heimaey, Westman Islands
The Westman Islands were formed by undersea volcanoes between 5,000 and 10,000 years ago and are among the youngest of the world's archipelagos. In 1973, Heimaey was threatened by lava flows that nearly closed off its harbor. Drive between the two volcanoes of the island then visit the ruins of old Viking houses dating back to the year 900 AD. Opt to hike up Eldfell volcano, formed during the 1973 eruption, and have amazing views of areas that were engulfed by lava. In some places the ground is still warm with thermal vents. Watch for nesting Atlantic puffins and gannets along the shores of the island. In 1963, the world witnessed on film the birth of its newest island, Surtsey—a newly designated UNESCO World Heritage Site—which we see as we cruise past the coast. (B,L,D)
•
DAY 6: Reykjavík, Iceland/Disembark/Home
Today we disembark in Reykjavík. Choose to visit the famous Blue Lagoon thermal baths or enjoy a visit to a hot spring, a geothermal power plant and an Icelandic horse farm, prior to flights home. Alternatively, join us for one of the optional post-voyage land extensions and continue your explorations of this amazing country! (B, L)
---
FULL TRIP DESCRIPTION AND PDF FILE HERE: 
---
Lindblad is the only cruise company with a self-disinfecting fleet of ships. And they did it before CoVid struck.
See https://www.expeditions.com/about-us/press-room/press-releases/lindblad-expeditions-becomes-first-self-disinfecting-fleet-in-cruise-industry/
Watch this video to learn more.
---
Here is the pricing for the Lindblad Expeditions Wild Iceland Escape. (Kindly note: there may be an option for solos to share a room with another. Ask for details.)
Voyage Rates – pricing is in USD: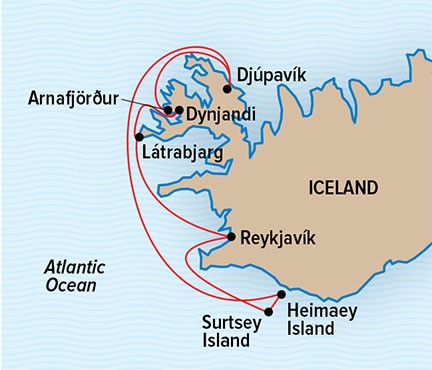 Double Occupancy
Category 1 = $  5,180 /p
Category 2 = $  5,790 /p
Category 3 = $  5,990 /p
Category 4 = $  6,890 /p
Category 5 = $  7,480 /p
Category 6 = $  8,890 /p
Category 7 = $10,330 /p
Single Occupancy
Category SA = $ 7,200 /p
Category SB = $ 7,490 /p
Advance Payment $750 /p
INCLUDED FEATURES: All accommodations aboard the ship or in hotels per the itinerary (or similar); all meals and beverages aboard the ship; meals on land as indicated; shore excursions, sightseeing and entrance fees; special access permits; local transportation to/from sites of interest; round-trip transfers for guests using the group flights; use of skiffs and kayaks; services of Lindblad Expeditions' leader, expert guides, and a medic assistant; taxes and service charges; gratuities to local guides and gratuities aboard the ship.
NOT INCLUDED: Airfare; extensions; passport, visa or immigration fees; departure taxes; travel protection plan or insurance; meals not indicated; discretionary gratuities to the ship's crew; and items of a personal nature. Group booking fee ($50/p Cdn plus gst).
NOTE: Itinerary is subject to change. Lindblad reserves the right to replace vessel and/or hotel accommodations, when necessary, with another of comparable size and caliber. Prices listed above are as of publication date and are subject to change. Lindblad reserves the right to impose surcharges based on increases in the company's actual cost of fuel.
CANCELLATION POLICY* Final payment is due 120 days prior to departure date. This policy applies to the voyage expedition. We strongly recommend that you purchase a travel protection plan/ insurance.
Number of Days Prior to Expedition Start              Per Person Cancellation Fee
180 or more days                                                   $750*
179–120 days                                                        Advance payment cost
119-90 days                                                           25% of trip cost
89-60 days                                                             50% of trip cost
59-0 days                                                               No refund
*This is the Lindblad cancellation policy. Vision/ Direct Travel has an additional cancellation policy of 10% trip price once trip is paid in full. Travel protection plan/ insurance is strongly recommended.
---
Please let me know if any questions!
I hope you can join me!
Best regards,
Sheila
613-837-0699