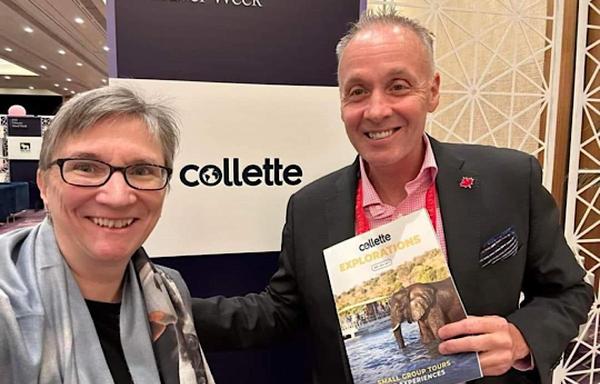 And I'm still working through all the wonderful connections and business ideas I'd gathered.
I was interviewd by PaxNews, a Canadian travel trade magazine.
Here's the article:
"What happens in Vegas doesn't stay in Vegas," said Sheila Gallant-Halloran, owner of Lush Life Travel, speaking on the invaluable relationships and business plans that form at
#VirtuosoTravelWeek
in
#LasVegas
. PAX attended this year's 5,000-plus-person event, where a more inclusive, Canada-focused
#Virtuoso
made waves in the
#luxurytravel
space. Virtuoso Travel
---
"What happens in Vegas doesn't stay in Vegas"
For Sheila Gallant-Halloran, owner of Lush Life Travel (an affiliate of Vision/Direct Travel), it was her eleventh time attending Virtuoso Travel Week in person and 13th conference in total (she attended two virtually during the pandemic).
"The whole week is wonderful, but my favourite part is Saturday's 'Globetrotting,' which involves visiting supplier partners in elaborately-designed booths, organized by pavilion for adventure, cruise, wellness, family and celebration, and ultraluxe travel," Gallant-Halloran said.
And the Toronto-based travel pro got her steps in – between Monday and Thursday last week, Gallant-Halloran attended 26 six-minute "speed dating" meetings each day, 10 ten-minute matched appointments, as well as additional meetings with suppliers in booths at the "Cruise Café" and "Preferred Partner Lounge."
That doesn't even include each day's luncheons, dinners, cocktails and afterparties.
She said the event both acknowledges sales accomplishments (last year, Gallant-Halloran was honoured for being a top Wellness advisor) and helps advisors make important connections.
This year, Gallant-Halloran met with top executives from AmaWaterways and Uniworld, the latter of whom she is working with to build a women's-themed cruise that will also cater to solo female travellers.
"Virtuoso Travel Week is where serious work intersects with fun while building relationships," Gallant-Halloran told PAX. "What happens in Vegas doesn't stay in Vegas."
Meanwhile, Virtuoso's growing team in Canada, with its monthly sales updates and business development channels, is a "huge bonus to us," Gallant-Halloran said.
See https://news.paxeditions.com/news/buzz/location-huge-opportunities-growing-virtuoso-canada-brings-talent-strategy-vegas
I'm excited for the year of travel planning ahead, and eager to share with you. Let me know where you'd like to go next!